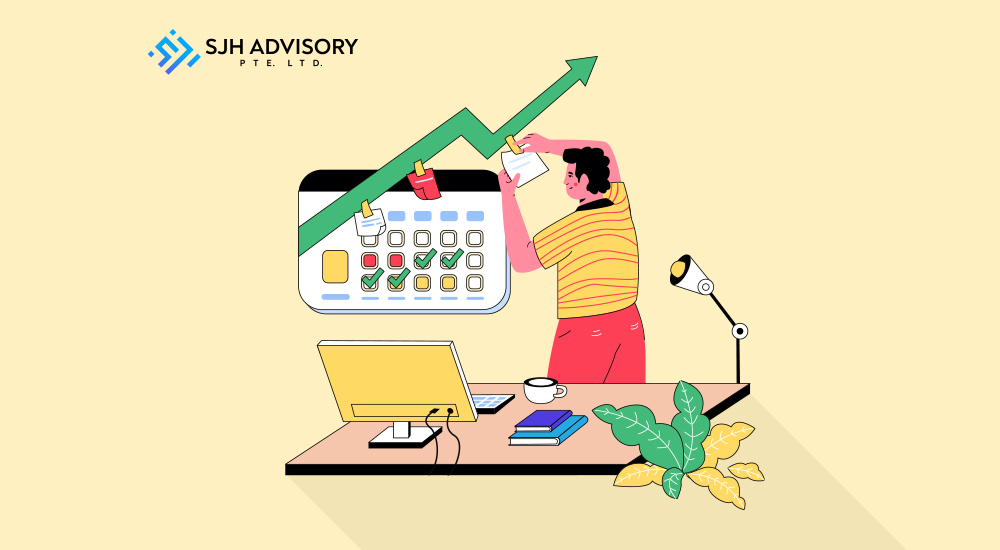 As a compliance requirement, one of the responsibilities of a company secretary in Singapore is to hold an annual general meeting ("AGM") after the financial year end ("FYE") on an annual basis.
The AGM in Singapore is an important opportunity for all shareholders to participate in the company's decision-making process. It's a chance for shareholders to stay informed about the company's business performance and to ask questions about the company's financial situation.
In this article, we'll explore why it is important for companies to hold an AGM in Singapore, as well as everything else you need to know to stay compliant.
What is an AGM in Singapore?
The annual general meeting ("AGM") is compulsory for companies in Singapore to hold every year. During the AGM in Singapore, the company is required to present the financial statements to shareholders.
This allows shareholders to inquire about the financial position and health of the business, making it an important opportunity to address their concerns. According to Singapore law, all companies are required to hold their AGM in Singapore every year.
The purpose of this requirement is to promote transparency and accountability, as it provides an opportunity for shareholders and stakeholders to gather and receive updates on the company's current situation and other concerns.
During the AGM in Singapore, the company's financial statements and other important reports are presented and discussed, allowing for greater understanding and involvement among participants.
This requirement also serves as a means of ensuring that companies are operating within legal and ethical boundaries, while also promoting good corporate governance practices.
In addition to declaring the AGM date to the Accounting and Corporate Regulatory Authority (ACRA) upon filing the Annual Return on BizFile+, it is also important to ensure that the date is communicated to all relevant stakeholders, including shareholders and board members.
By keeping all interested parties informed, the company can ensure a high level of attendance and engagement during the AGM, which is crucial for making important decisions and driving the business forward.
Objectives of holding an AGM in Singapore
The main purpose of the AGM is to ensure that the business is compliant with legal requirements, such as presenting financial statements and appointing a new auditor.
During the AGM, important decisions are also made to protect the company's well-being and shareholders are kept informed about operations. Here are the two main objectives of holding an AGM in Singapore:
Presentation of financial statements
During the AGM in Singapore, the company is required to present financial statements to all shareholders that provide a precise and impartial evaluation of the company's financial performance over the course of the year.
Once the financial statements are presented, they must be adopted and approved by the shareholders. It should be noted that privately held companies are allowed up to six months following the FYE to present their financial statements at the AGM.
Approval of business transactions
During an AGM in Singapore, companies commonly seek approval from shareholders for various business transactions. These may include declaring dividends, electing directors by vote, appointing auditors for the following calendar year, and authorizing the issuance of shares.
Procedure for carrying out an AGM in Singapore
At an AGM in Singapore, the company presents its financial accounts and addresses any questions from members. The person who usually serves as the chairman of the board of directors leads the AGM as the chairman of the meeting.
If the Constitution of the company does not indicate who should preside over the meeting, any other member may be assigned to this role during the AGM. The corporate secretary or a secretarial service is responsible for creating any required documentation for the AGM.
When conducting an AGM in Singapore, it is important to keep in mind the following considerations:
1. During an AGM in Singapore, only resolutions for which notice has been provided should be considered, apart from ordinary business defined by the company's constitution.
The company's constitution specifies what constitutes ordinary business, which may include items such as dividend payouts, accounts and balance sheets, and appointment of directors and auditors.
Any resolutions passed during the AGM that are not related to routine business should have been stated in the AGM Notice and are considered special business.
2. Ensure that the quorum is met
The quorum refers to the least number of members that must be present at the AGM to validate it. If a quorum is not specified by the company's Constitution, at least two members (or their proxies) must be present to meet the minimum requirement.
3. Make sure that proxies have been appointed correctly.
At an AGM in Singapore, it is permissible for a proxy to represent a member and cast votes on their behalf. The company's Constitution should specify the mechanism for appointing a proxy, which may apply to all meetings or only the present one.
It is important to verify that members who utilize proxies have followed the instructions.
4. Make sure that the documents are laid out correctly
It is the responsibility of the directors to present important documents during the AGM such as balance sheets, financial statements, and the auditor/director's report.
These documents must also be provided to all members at least fourteen days before the meeting to allow them to prepare any questions they may have for the directors.
5. Make sure that various resolutions are voted on correctly.
As per the company's Constitution, members are entitled to vote, unless there are exceptional circumstances such as non-payment of issued shares. Voting can take place via a poll or show of hands.
However, proxies are typically not authorized to do so via show of hands, except for when it is permitted by the Constitution.
6. Wrapping up the AGM
After the AGM in Singapore, the company secretary takes notes and prepares the minutes, which are then reviewed and signed by the chairman of the board. Finally, the company secretary files the Annual Returns through BizFile+.
Which companies are exempted from conducting an AGM in Singapore?
Private companies in Singapore have been eligible for exemption from AGM requirements since August 31, 2018, provided they deliver the financial statements to their members within five months after the FYE.
However, there are certain safeguards that need to be followed in order to qualify for this exemption.
To request an AGM in Singapore, a member should inform the company at least 14 days prior to the end of the sixth month after the FYE

If any member of the company notifies the directors, they are required to conduct an AGM within 6 months after the FYE. If the company is unable to hold the AGM within the specified deadline, they may request an extension of time with the Registrar.

Private companies are obligated to hold an AGM to present financial statements if requested by an auditor or a member. Directors are obligated to abide by the request and hold the meeting within 14 days of distributing their financial statements.
Private dormant relevant companies that are exempted from preparing financial statements are not required to conduct an AGM in Singapore, as long as they comply with the safeguards outlined above.
A private dormant relevant company is considered one if it is dormant, has total assets that are equal to or less than $500,000, and is not listed nor a subsidiary of a listed company.
How will companies who fail to hold an AGM in Singapore be penalized?
It is mandatory for all businesses in Singapore to comply with the laws and procedures of ACRA and the Companies Act.
Company officers who do not comply with the requirements for holding an AGM and submitting an annual report may be subject to fines and/or judicial proceedings imposed by ACRA.
If directors fail to comply with the requirements for holding an AGM, they may be prosecuted in court and disqualified from being a director.
In addition, companies that do not hold the required AGMs may face composition fines imposed by ACRA. A penalty for late lodgment is also applied to every annual return that is submitted after the deadline.
How we can help - our Corporate Secretarial services
Holding an AGM in Singapore is not just a legal requirement, but also an important opportunity for companies to promote transparency, accountability, and good corporate governance practices.
By presenting financial statements, seeking approval for various business transactions, and addressing shareholders' concerns, companies can ensure that all stakeholders are informed and involved in the decision-making process.
If you need help with ensuring compliance with ACRA requirements or handling the necessary documentation and filings for your AGM, SJH Advisory can assist you every step of the way.
As a provider of corporate secretarial services, SJH Advisory can help you ensure compliance with ACRA requirements by managing the necessary documentation and filings for your AGM.
We can also offer guidance on the procedures to follow during the meeting and help ensure that all stakeholders are informed and involved in the decision-making process.
By working with us, you can rest assured that your company will remain compliant and that your AGM will be a success.
If you're interested in working with our team of experts, you can learn more about our complete range of corporate secretarial services or get in touch with us for a FREE consultation.
AGM In Singapore - Frequently Asked Questions