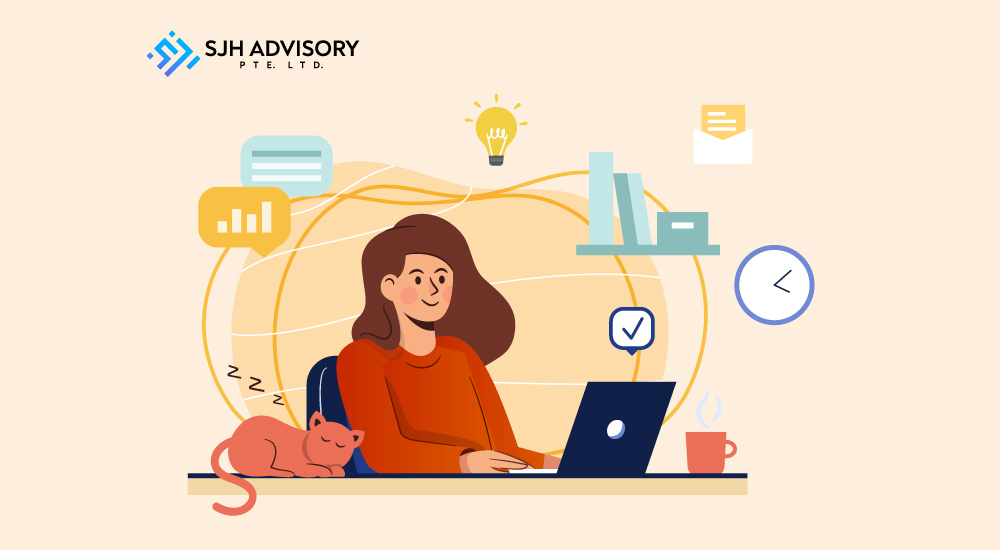 As the entrepreneurship landscape evolves, the prospect of running a business from the comfort of your home has gained unprecedented traction. This step-by-step guide is crafted to be your compass, navigating you through the intricacies of how to start a home based business in Singapore with precision and clarity.
What is a Home Based Business in Singapore?
A home based business is a small-scale venture operated from home, eliminating the need for external office space. It's a one-person show, with the business owner managing everything. 
This approach has become increasingly popular in Singapore, especially since the COVID-19 pandemic, as more people opt for small businesses run from home. It's a practical choice, minimizing costs and seamlessly integrating work into daily life. Home based businesses represent a shift towards independence and adaptability, shaping Singapore's new era of entrepreneurship.
Advantages of a Home Based Business in Singapore
Starting a home based business has clear perks. One significant advantage is the flexibility to set your work hours, fitting your business around your life. The low start-up costs make it an economical choice, especially for those wanting to be mindful of their savings.
Using your home as your business base lets you test your ideas without a significant financial commitment, making it a practical and cost-effective way to kickstart your entrepreneurial journey.
Disadvantages of a Home Based Business in Singapore
Starting a home based business in Singapore has downsides to consider. One challenge is the potential for isolation since working from home might limit networking opportunities. Another issue is blending personal and work life, which can lead to burnout.
Additionally, home based businesses may face limitations on growth due to space constraints. There's also a concern about the perceived professionalism, as clients might question the credibility of a business run from a home address.
Common types of Home Based Businesses in Singapore
In Singapore, home based businesses span diverse industries, offering entrepreneurs the flexibility to pursue their passion or expertise. Here are some common types:
Food Businesses:

Small-scale baking ventures are popular, allowing individuals to turn their culinary skills into a home based business.

Beauty Services:

Hairdressing, facial and beauty services and manicure or pedicure services can be conveniently offered from home.

Private Tuition:

Providing private tuition for a limited number of students, not exceeding three at a time, is a viable home based business option.

Freelance Professions:

Various freelance opportunities exist, including roles as artists, journalists, photographers, and writers, enabling individuals to showcase their creative talents.

Consultancy:

Home-based consultancy services cover a broad spectrum, including business, engineering, IT, management, or education consultancy.

Technology-based Businesses:

With technological advancements, various knowledge-intensive businesses, such as software development or online consulting, can be run from home.
Government Requirements for Home Based Businesses
Setting up a home based business in Singapore involves meeting specific government requirements to ensure legal compliance. Here's a simplified breakdown:
Business Registration:

Register your business with

ACRA

, providing the necessary details.

Zoning and Home Office Approval:

Check if your residential area allows home based businesses and seek approval from

HDB

or

URA

if required.

Tax Registration:

Register for taxes, including

GST

if applicable, based on your business turnover.

Permits and Licenses:

Secure any necessary permits or licenses depending on your business type.

Employment Regulations:

If hiring, understand and comply with employment regulations and labor laws.

Intellectual Property Protection:

Protect your unique products or services through trademarks or patents.

Industry-Specific Compliance:

Be aware of and comply with industry-specific regulations relevant to your business.
Meeting these requirements ensures your business operates legally and is well-positioned to succeed in Singapore.
How To Start A Home Based Business In Singapore: Business Registration Process
Starting a home based business in Singapore involves a straightforward business registration process. Here's a step-by-step guide to help you navigate through the procedures:
1. Understand Your Home-Business Scheme
Before diving into the business registration process, identify the home-business scheme that best suits your activities. Two typical schemes are:
Home Based Business Scheme:

Ideal for small-scale businesses such as food businesses, hairdressing services, and freelance artists. This scheme covers most freelance services, with specific provisions regarding the number of students for private tuition.

Home Office Scheme:

Suited for small-scale offices engaged in admin functions like accountancy services or consultancy. This scheme is limited to two non-resident employees only.
2. Comply with Provisions and Guidelines
 Once you've identified your scheme, ensure compliance with provisions and guidelines. Key steps include:
Registering with ACRA:

Most home businesses must register with ACRA. Exemptions exist, such as using your full name(s) from your National Registration Identity Card (NRIC) as the business name. However, adding descriptive words to the name requires registration.

Criteria for Exemption:

Familiarize yourself with the requirements for exemption outlined in the Business Names Registration Act.

Registration Process:

Utilize

GoBusiness

to register the business as a partnership or sole proprietorship. 
How To Start A Home Based Business In Singapore: Applying For Relevant Licenses And Permits
Once your home based business is registered, obtaining the necessary permits and approvals is the next crucial step. Here's a guide on the appropriate procedures:
Relevant Licenses/Approvals
Home Based Business Scheme:

Businesses such as freelance artists or small-scale services under this scheme generally do not need additional licenses.
Home Office Scheme: Home office businesses must get relevant licenses before starting operations.

You must obtain the owner's consent prior to submitting an application.

Upon completing a successful application and paying the $20 admin fee, instant approval is given.

The granted license is still valid while the home office business is operating.
Residential Considerations
Conditions of Use:

Residents undertaking home-based activities must be courteous to their neighbors, and the property must keep its residential character.

Conditions of usage for private residential homes and public housing (HDB flats) must be followed by home businesses.
Prescribed Conditions:

Under HDB and URA home based business schemes, residents must meet specified conditions, ensuring that the business doesn't significantly alter the residential nature of the premises and doesn't cause disturbances to neighbors.

Non-compliance may result in a directive to cease operations or relocate to commercial units.
Industry-Specific Protocols
Zooming In on Requirements:

After registration and licensing, focus on industry-specific protocols and requirements.

Different industries have varied protocols and licenses, so business owners must ensure all necessary paperwork is in order.
 Attendance at the WSQ Food Hygiene Course for home bakeries is encouraged to enhance food safety knowledge.

Technology companies should consider filing patent applications to protect their intellectual property.
How We Can Help: Our Incorporation Service
At SJH Advisory, we understand the complexities of starting a home based business in Singapore. Our dedicated incorporation service is tailored to guide you seamlessly through the process, ensuring compliance with all regulatory requirements. 

From navigating the complexities of registration to providing accounting services, our expert consultants are here to streamline your journey. Let us empower your entrepreneurial aspirations. Contact us today for a FREE consultation and take the first step toward realizing your home based business dream in Singapore.
How To Start A Home Based Business In Singapore - FAQs
While many businesses can be run from home, certain restrictions and regulations apply. Understanding the specific schemes and guidelines is crucial to ensure compliance.
The necessity for a license depends on the nature of your business. For instance, businesses under the Home-Based Business Scheme might not need a license, while others, such as those under the Home Office Scheme, might need relevant licenses/approvals.
Different industries come with specific protocols and licenses. It's essential to focus on the requirements relevant to your field to ensure comprehensive compliance.