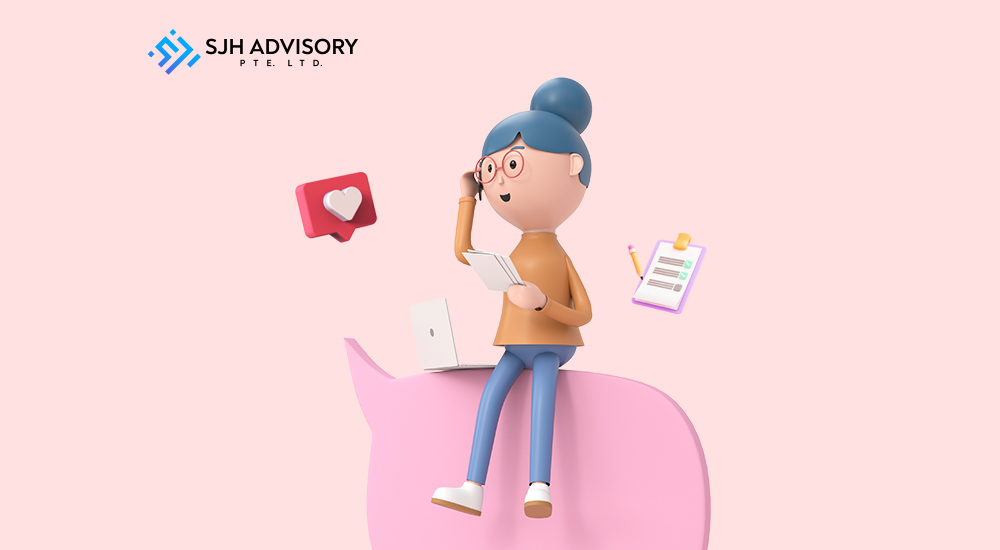 The company secretary is the company's executive officer, in charge of its day-to-day operations and compliance with laws and regulations. Therefore, it is essential for the company secretary to be conversant with all laws that govern the company.
The Ministry of Corporate Affairs sets the Singapore company secretary requirements. This article will discuss everything you need to know about getting a certified company secretary in Singapore.
Many businesses turn to outsourced company secretarial service providers like SJH Advisory because it helps you save more time and money than hiring and training an in-house secretary.
Read on to find out more about the essential Singapore company secretary requirements and whether you should use outsourced services. 
Singapore Company Secretary Requirements: Primary Function Of A Company Secretary
The main role of a Singapore Company Secretary is to ensure that the company complies with all the applicable laws and regulations. This affects the Singapore company secretary requirements as the candidate must be qualified to carry out the required duties and responsibilities.
In addition, they are responsible for maintaining accurate records of business transactions, ensuring that the company follows its constitution, and that directors carry out their duties in an effective manner.
To the company, the secretary guarantees that all relevant legislative duties are met, that the company's economic interests are always protected, that good corporate governance is maintained, and that the secretary is routinely present at the company's registered office address.
In terms of company shareholders, the company secretary should communicate with them regularly and protect their interests; immediately disseminating financial information so that shareholders can partake in decision-making at the company's Annual General Meeting.
The secretary's responsibilities to company directors include serving as an advisor to the directors and providing any practical help required; they share timely information with all directors for them to engage fully during board meetings.
What Are The Singapore Company Secretary Requirements?
So, what exactly are the Singapore company secretary requirements? Before getting into the criteria for choosing a suitable candidate, you must first understand how the role of the company secretary is defined.
A company secretary is a person who has the qualifications and experience to serve as the company's legal representative. A company secretary is appointed by the board of directors or shareholders and can be removed from office at any time by them.
Thus, due to the Singapore company secretary requirements, the company secretary is usually a lawyer, accountant, or business executive.
According to the Companies Act, Section 171 (1AA), Singapore company secretary requirements for public companies must meet the following criteria:
Singapore citizen
EntrePass holder or Employment Pass holder issued with such a pass may work at the company in question. (Note: S pass holders can also serve as company secretaries. However, they are not permitted to serve as company directors.)
Age 21 years old and above
Has been a company secretary of a company for at least three of the five years immediately before his appointment as company secretary of the public company
Qualified individual as defined by the Legal Profession Act (Cap. 161)
Public accountant licensed by the Accountants Act (Cap. 2)
Member of the Institute of Certified Public Accountants of Singapore
Member of the Singapore Association of the Institute of Chartered Secretaries and Administrators
Member of the Association of International Accountants (Singapore Branch)
Member of the Institute of Company Accountants, Singapore
Meanwhile, the Companies Act specifies who is not eligible to be selected for a company's secretary position. The exclusions are as follows:
In Singapore, the sole director of a corporation cannot function as the company secretary but can appoint a corporate service provider to do so.
A person who has been barred from being appointed may also be denied. This indicates that a practicing company secretary whose right to function as corporate secretary has been revoked, may also be disqualified.
Singapore Company Secretary Requirements: Duties And Responsibilities Of The Role
The Singapore company secretary requirements are put in place because of the extensive job scope the role covers. The Singapore Company Secretary is a position that is responsible for the general administration duties of the company, specifically the following:
1.

Maintaining Statutory Registration
The Company Secretary is responsible for maintaining and updating the statutory registers required by law, including: 
Register of Members
Register of Nominee Directors
Register of Company Charges
Register of Directors, Secretaries and Auditors
Register of Controllers
Minutes book
2.

Filings with the Accounting and Corporate Regulatory Authority (ACRA)
The company secretary is in charge of all ACRA filings, which include, among other things:
Notifications of appointment, removal, and resignation of directors, CEOs, corporate secretaries, and auditors
Creating and submitting annual returns
Changing the name of a firm
Changes in share capital
3.

Annual general meetings
The secretary must prepare and distribute shareholder meeting notices. They should also make meeting agendas and distribute financial reports.
The company secretary must inform directors about the issues that will be considered during the meeting. They should also prepare and disseminate the relevant information and documentation. Additionally, they take minutes, prepare board resolutions, and authenticate copies of minutes.
ACRA considers a company secretary to be an officer of the company, enforcing the same fiduciary duties as company directors:
Always behave in the company's best interests, avoid conflicts of interest, and carry out responsibilities with acceptable care and diligence.
Never profit illegally from personal deals for/with the company.
The Singapore company secretary should, if necessary, maintain proper custody and use of the company seal, if available. They also manage correspondence between shareholders and the company. Furthermore, they must remind the directors to complete their statutory tasks on time and ensure the company's operations are transparent and accountable.
Singapore Company Secretary Requirements: Powers Of The Company Secretary
In Singapore, the company secretary is an officer of the company required by law to be appointed. The company secretary has a wide responsibilities and duties, which include:
Meeting of compliance requirements;
Preparation of statutory documents, e.g., AGM, EGM and Directors' Resolutions;
Providing information on behalf of the company in response to queries from various authorities;
Maintaining records related to company formation, administration, and dissolution.
When establishing a business in Singapore, it is recommended that you hire a competent firm such as SJH Advisory, ensuring compliance with Singapore company secretary requirements.
Singapore's corporate secretarial services are all about ensuring a company's compliance with legislative and regulatory obligations. All registered companies in Singapore are required by law to have a company secretary who will assist and guarantee compliance with the Singapore legal framework.
SJH Advisory provides high-quality corporate secretarial services in Singapore to meet all of your regulatory requirements. If you're an entrepreneur looking to establish a company in Singapore, SJH Advisory can assist you with all aspects of corporate secretarial services in Singapore. Contact us now for a consultation!